Long lasting, strong, adjustable stainless steel products used to mount Pole Line
hardware to concrete, galvanized steel, fiberglass, and aluminum. Poles where traditional fastening products such as bolts and screws could endanger the physical integrity of the poles.
Pole Mounting Product Used:
Stainless Steel Bands
Stainless Steel Buckles
Aluminum sign brackets
Flared Leg Sign Brackets
Straight Leg Sign Brackets
Powder Coated Band
Powder Coated buckles, wing seals and sign brackets
Strapping Cool Tool
Ratchet Tool
Band Cutters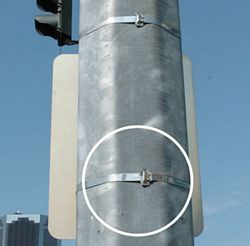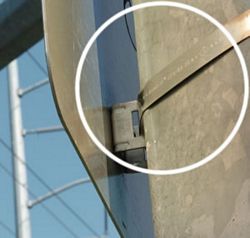 Mabor has high-quality sign mounting hardware in Canada.
Are you looking for sign mounting hardware in Canada? Mabor is a sign mounting hardware supplier in Canada with over three decades of experience. With over thirty years serving specialized industries we have greatly expanded our product line to give our customers an ever-growing choice of products best suited to their needs, applications and requirements at the most competitive pricing in Canada. You will find that as one of the most trusted sign mounting hardware distributors in Canada we have forged some consistent and lasting relationships with some of the best companies that manufacture sign mounting hardware in Canada.
If you need a trusted sign mounting hardware dealer in Canada look to Mabor.
You can trust Mabor with all of your individual needs for sign mounting hardware in Canada, because we have the knowledge, connections and the productions that you need. When you contact our company, your questions and inquiries will be answered quickly and with precision. There will be no guesswork involved and you can rest assured that your product needs will be fulfilled. If you want to know why Mabor is different from our competition all you have to do is look at our customer service guarantee and see our expanded product line. All of the sign mounting hardware from our Canada-based company that you find on our website is guaranteed to be of the utmost quality and is designed and tested to the exact strength in its literature.
The best products at the most competitive prices.
Our product line is always growing with more and more top-quality North American industrial products like professional sign mounting hardware. In Canada, we have made a name for ourselves as one of the most trusted sign mounting hardware suppliers. Our Canada-based website is sure to have what you are searching for and if you cannot find what you are looking for just contact us and we will do everything in our power to help you with your project. We are a company with high standards and all of the products that we sell and promote are sure to prove that to you.
Please contact our customer service representative's today to learn all about the products that we offer and how we can help you or your company with your next order or project.