Mabor Industrial Inc. (formerly Band-It Canada) – we changed our name but not our products… and added many more!
Mabor Industrial Inc. seals and buckles are ideal for forming applications such as strapping bands and preformed hose clamps.
Mabor is a preferred Distributor of the industries leading Band and Buckle Manufacturers. We carry the brand your looking for!
Buckles
Available in an ear style or heavy duty, Mabor buckles are made with Type 201 or Type 316 stainless steel to suit a wide variety of applications.
Wing Seals
Wing seals, available in aluminum, carbon and stainless steel, can be used with Mabor Industrial Inc. economy stainless steel strapping.
Specialty Seals
Crimp style stainless steel pusher seals. Use with single notch sealers. Ideal for outdoor industrial applications.
Screw Lock Buckles
Screw Lock Buckles are used in applications when a temporary clamp is desired or space limitations do not allow for tool roll-over. A set screw locks the band after tensioning.
Banding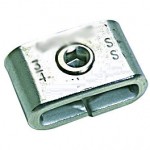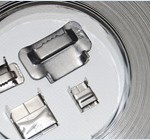 Buckles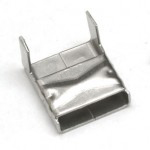 You can trust Mabor Industrial for band and buckle systems in Canada.
If you're looking for band and buckle systems in Canada you have come to the right place. Mabor Industrial Inc is one of the most trusted and utilized band and buckle system dealers in Canada. Our company was established in 1979 in Mississauga, Ontario with a vision of offering exceptional service in the municipal and industrial markets with quality products, integrity, courtesy and respect.
We are the only band and buckle system dealer in Canada that you will ever need.
As a leading band and buckle system distributor in Canada we have developed a name that you can rely on. We are very pleased to be able to say that you will not find a better quality of products for band and buckle systems in Canada than you will find at Mabor. If you are a manufacturer, you do not have to look any further than Mabor. And if you are a distributor looking to do business with one of our manufacturers you can contact us to find out how we can help you get connected to our incredible network of elite manufacturers. You will be able to find exactly what you are looking for for your next project, because Mabor has connections to the most utilized manufacturers that offer band and buckle systems in Canada. We are a band and buckle system supplier that you can trust to take care of your individual needs.
Contact Mabor for any of the products that you see on our website.
We have been a band and buckle systems dealer in Canada for over thirty years offering some of the most trusted name-brand products in our industry. You will be able to find the highest quality products in bands and buckles, wing seals, specialty seals, screw-lock buckles, stainless steel ties. You name it, Mabor has it and if we don't we will help you get it. Trust Mabor as your one-stop band and buckle system dealer in Canada. Mabor has been in business since 1979 as a band and buckle system dealer in Canada with the experience that you need. You only need to visit Mabor for your next band and buckle system in Canada.